Football Card
Samples
Click on image to
see a larger version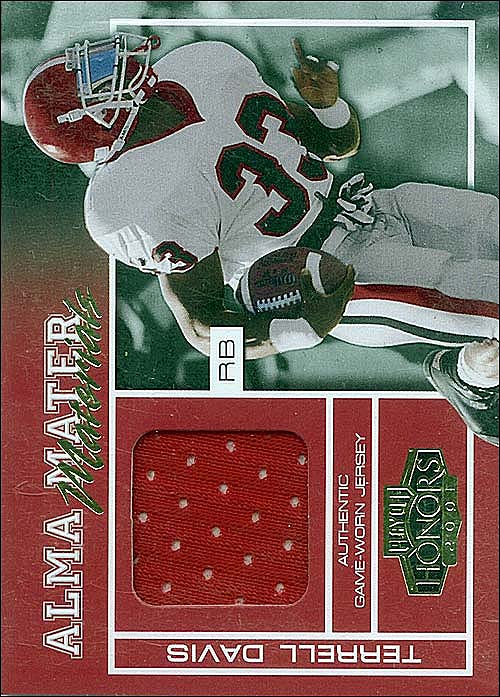 links
Trading Tip
Don't jump to conclusions.
Sometimes cards get lost in the mail. Human error can't stop it. If your cards don't show up, it doesn't necessarily mean you've been ripped off. Contact the person you traded with to see if they had any delays in shipping. Quite often there is a reasonable explanation.

A couple years back I sent some cards that never arrived. The person I was trading with, a repeat trader I might add, started threatening to press charges and blackballing my name on all kinds of trading boards. I offered to return his cards, no questions asked. I also suggested he picked a new batch of cards. I even emailed every single person I had traded with in the past that I still had email addresses for to see if I mistakenly sent them the cards. After several more daily threats, he picked another batch of cards worth $43, the exact value of the original deal. When I sent the cards I included a note apologizing for the inconvenience. It was nobody's fault, just a post office mix up. I just felt it was best to be polite. Ten days later he sent me a message saying he got the cards and that I wasn't a thief after all. The damage was done. Name-calling and threats are impossible to take back. - tip from www.tradercracks.com


Frequently Asked Question
What is card grading?
Card grading has been a phenomenon over the last few years. An unbiased company grades the card based on the condition of the card. This allows the owner and prospective owners of the card to get a third partyís opinion of the card. This would prevent any debate over the condition of the card. There are many grading companies in the market but the more recognizable Grading companies include PSA and SGC.

Some of the Upper Deck releases offer graded cards within the boxes, while the majority of our releases only have raw cards (i.e. Non-graded cards).

The majority of cards submitted for grading are Rookie cards. The higher grade the card receives, the higher value the card will receive in the market. However, the values of the graded cards are dictated by the population report of the graded cards. Typical of a supply and demand market, the fewer of the higher values a given card has received, the higher value the card will command on the market. Prices of the graded cards could be found in publications such as Sports Market Report, and online auction sites such as Ebay.

Most collectors grade the card with the hopes of receiving a high grade, thus increasing the value of the card. Graded cards are great to have a third partyís opinion to help enhance the sale of the cards. In most cases, if collectors are content with the card, and plan on keeping it (especially if you are storing the card in a 9-pocket sheet), then there isnít a need for the card to be graded.


Customer Testimonial
Super Fast. Great cards.Great price. Thx


Glossary Term
Pack-out (also known as Configuration) - Refers to the number of cards found in each pack, the number of packs found within each store box (or display box), and the number of boxes within each case.