Football Card
Samples
Click on image to
see a larger version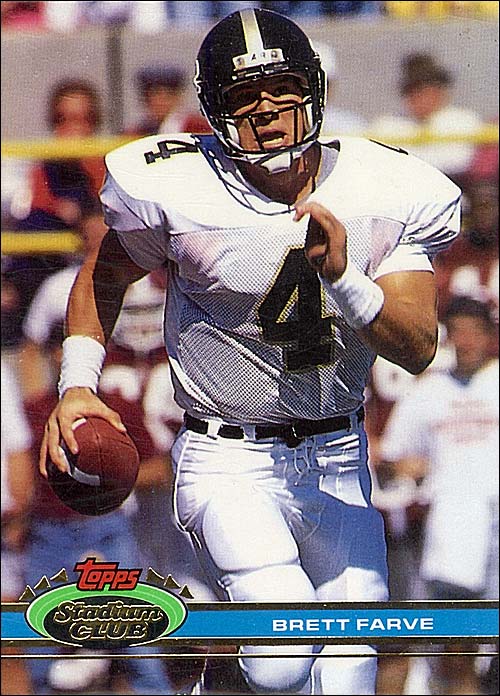 links
Trading Tip
Don't jump to conclusions.
Sometimes cards get lost in the mail. Human error can't stop it. If your cards don't show up, it doesn't necessarily mean you've been ripped off. Contact the person you traded with to see if they had any delays in shipping. Quite often there is a reasonable explanation.

A couple years back I sent some cards that never arrived. The person I was trading with, a repeat trader I might add, started threatening to press charges and blackballing my name on all kinds of trading boards. I offered to return his cards, no questions asked. I also suggested he picked a new batch of cards. I even emailed every single person I had traded with in the past that I still had email addresses for to see if I mistakenly sent them the cards. After several more daily threats, he picked another batch of cards worth $43, the exact value of the original deal. When I sent the cards I included a note apologizing for the inconvenience. It was nobody's fault, just a post office mix up. I just felt it was best to be polite. Ten days later he sent me a message saying he got the cards and that I wasn't a thief after all. The damage was done. Name-calling and threats are impossible to take back. - tip from www.tradercracks.com


Frequently Asked Question
What is an insert set?
Insert sets are planned short prints within a production run that generally have more technology and excitement surrounding them. Inserts can have ratios anywhere from 1 card from an insert set found per pack all the way up to a "1 of 1," which means just one of those cards exist.

Ratios indicate how often cards from insert sets are scheduled to fall in a given pack of cards (generally printed on the pack or box) with numbers like "1:28," which would mean 1 card of the insert set listed would fall in every 28 packs.

The total number of insert cards within a given insert set also help dictate how random and difficult it will be for collectors to find. Therefore, if a 10-card insert set is going to be inserted 1:28, then it would take a collector on average 280 packs (10 multiplied by the insert ratio 28) to find a specific card from that insert set or to complete the entire insert set. How much harder is it to complete an insert set of 20 cards at the same 1:28 ratio? If you answered "twice as hard," then you've got it.

Several different insert sets generally exist within each trading card product, and they are set up to offer different levels of challenge for collectors. Some collectors only focus on the more rare inserts while others try to complete the more obtainable.

There are a great variety of insert cards being produced by trading card manufacturers today. Everything from game worn items being cut up into pieces and put onto the cards (See What are Game Worn Jersey Cards?) and cards with the actual signature (or signatures if more than one player signs the card) on them to cards with wood engraving and highly decorated foil cards.

For the most part, the higher the price of the pack, then the more insert content the product should strive to deliver.


Customer Testimonial
smooth transaction, would recommend, A+++++


Glossary Term
Legal line - This is the area on the card, packaging, solicitation, advertising, etc. that states all of the legalities and rights granted, in order to produce the card set.