Football Card
Samples
Click on image to
see a larger version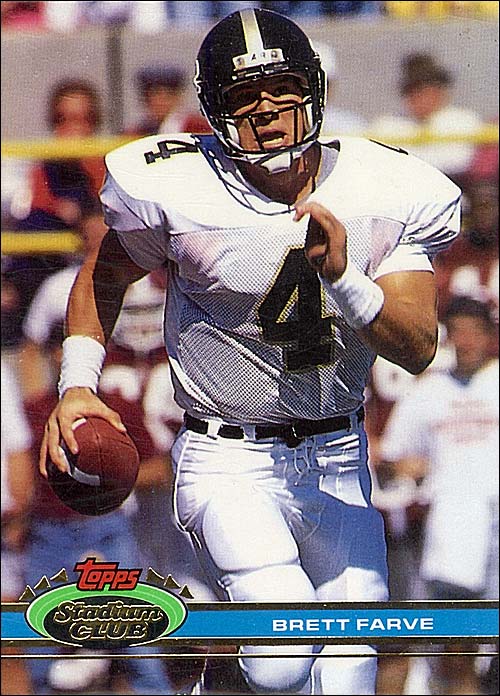 links
Collecting Tip
Let your sports card shop owners know what they are doing right - tip from www.cheapseatscards.com


Frequently Asked Question
What is a Game-Used Memorabilia card?
A game-used (game-worn, match-worn) memorabilia card contains a cut "swatch" of an authentic game-used jersey worn or used in an official sports game or match. Jerseys, shirts, warm-ups, balls, shoes, and even the floor from basketball arenas (among many other items) have been cut up and put onto trading cards.

Collectors have also taken to this concept since most cannot afford to purchase a full actual game-worn jersey themselves, as they either do not have access to the athletes or that much money to purchase them (most start at $2,000 and can run all the way over $100,000 at auction depending on the athlete).

Items are purchased directly from the player, agent, team, league, or from credible secondary market sources (such as auctions) and are thus authentic, used materials.

Usually, card manufacturers will cut the jersey into 1" x 1" swatches and then "sandwich" them between 2 pieces of cardboard. Autographed versions, versions with multiple colors of fabric, and versions with the jersey patches add more variety for those who want to take their collections to the next level.

The bottom line is that these cards bring collectors and fans closer to the game and allow them to own a piece of history.


Customer Testimonial
Super Fast. Great cards.Great price. Thx


Glossary Term
Insert ratio - These numbers are associated with cards that are not commonly available within the packs of cards. The ratio indicates what the odds are of finding such a card within packs. This is generally communicated on the packaging of a product with a ratio after a specific name, such as "Top Hitters 1:24," which would indicate that the subset or insert set called Top Hitters is short printed (vs. the rest of the set) and will fall at an approximate ratio of 1 in every 24 packs. Sometimes, just the total number of cards produced for a specific short printed card is announced, as these cards are generally sequentially numbered and no approximate ratios are available at that time.